Which Solutions Can Blockchain Provide to Governments? Answers from Thierry Arys Ruiz, Founder at TARCO International and AgAu.io.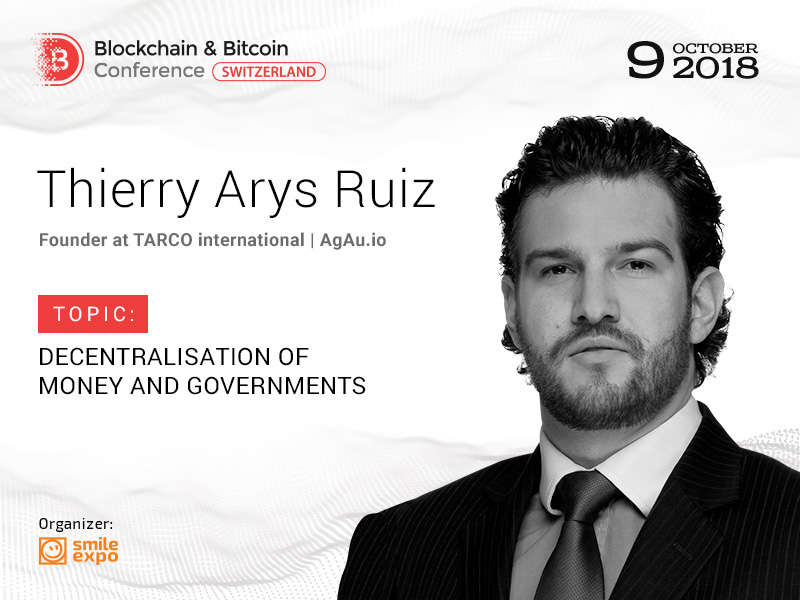 Blockchain suggests several solutions for challenging governments' and central banks' monopolies. For instance, DLT-based e-voting and decentralized banking systems are already being tested in some countries. What benefits do they bring and what are the other ways blockchain can improve the governments' operations?
The issues will be discussed at the Blockchain & Bitcoin Conference Switzerland. The founder at TARCO International and AgAu.io – Thierry Arys Ruiz – will become a speaker at the event and will share knowledge about the decentralization of money and governments.
Key points:
how cryptocurrencies challenge monopoly from central banks;
blockchain banking system – STP, banking the unbanked, cross border transactions;
democracy and DLT consensus;
e-voting and a solution against populism.
Thierry Arys Ruiz is the DLT enthusiast and entrepreneur. He is an expert in business development, commodity trading and risk management.
The speaker has established the DLT-based startup in crypto valley – TARCO International, where he currently has a position of the managing director. The company provides strategic technology and business consultancy for startup projects.
AgAu.io – the other platform founded by the expert with the aim to solve the problems of currencies' devaluation and volatile market fluctuations. The platform offers stable crypto coins – AgAu.GLD backed by gold and AgAu.SLV backed by silver, representing direct ownership of 1 gram of 99.99% quality precious metals.
Thierry Arys Ruiz has also taken part in the establishment of Staxe.io – the first DLT-based platform for investing digital assets in live events, such as concerts, festivals or networking meetings.
In addition, the specialist is also a founder of the TARCO Association – the platform for promotion of meritocracy and social mobility through education to gifted children in disadvantaged areas of Mexico and Latin America.
Learn more about the DLT possibilities for banking systems and government operations from the crypto expert at the conference!
Subscribe and receive full program of the conference