What Is the Difference Between Utility and Security Tokens? Answer from CTO at Cryptodus Lukas Kairys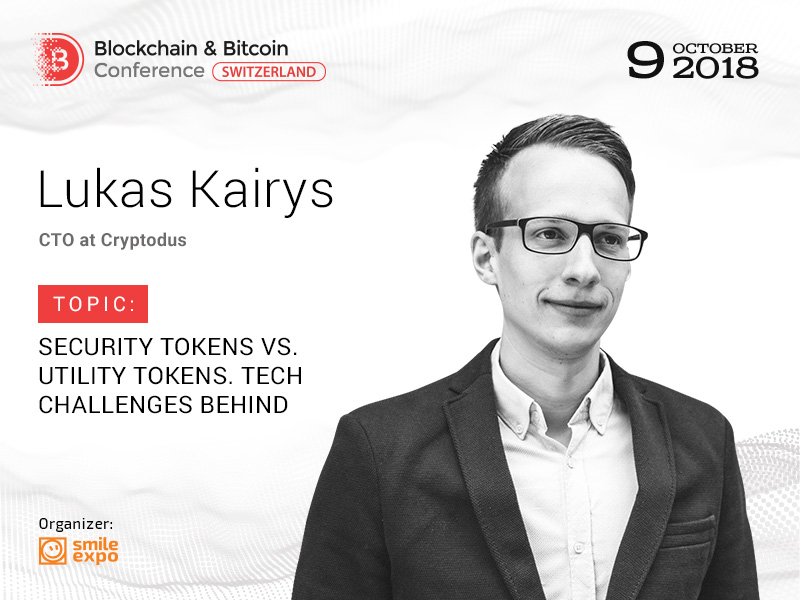 ICO launching or taking part in it is a popular activity among the blockchain enthusiasts. However, before buying or issuing any tokens, it is important to know how they differ and what challenges each kind presents.
The issue will be addressed at Blockchain & Bitcoin Conference Switzerland. CTO at Cryptodus Lukas Kairys will analyze the difference between utility and security tokens as well as share the advantages and drawbacks of each type.
Lukas Kairys is a token sale expert and a DLT developer certified by IBM. He has worked with top ICOs which have raised more than $100 million in total.
Currently, the speaker is CTO at Cryptodus – the company that provides ICO consultations and works on the technological development. At the organization, the expert is developing smart contracts, PoC, and MVP for various startups.
The specialist is also a Blockchain and Cryptography Advisor at BetInReal – the platform delivering an innovative gambling experience with the help of AR and VR technologies.
Apart from that, Kairys has an experience of working as a Smart Contracts Consultant at WePower Network – a DLT-based green energy trading platform. He was advising the token sale structure at the company, and the platform has raised $40 million via ICO.
The expert is also a frequent writer at the popular publishing platform – Medium. For instance, he has posted articles about the ETH smart contracts work, BTC worldwide adoption, crypto exchanges, and many more topics.
Seize a chance to meet the crypto expert at the conference and learn more about different kinds of tokens!
Subscribe and receive full program of the conference