Kir Kelevra: Crypto trading has come to a deadlock, and ICO projects are more concerned about the image rather than about the product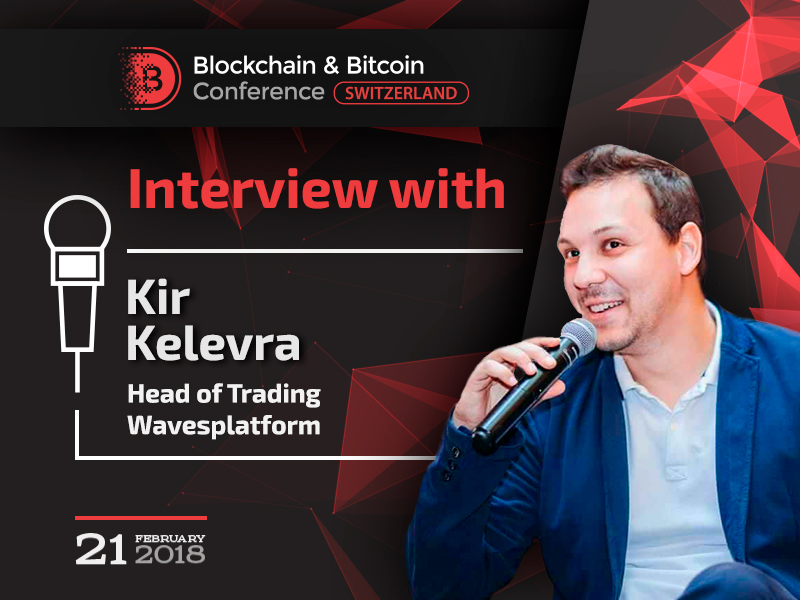 In 2018, crypto investors will be more cautious while investing in ICO projects, and modern crypto trading has come to a deadlock. This is the opinion of the professional crypto trader and Head of Trading Wavesplatform Kir Kelevra.
In an interview with Blockchain & Bitcoin Conference Switzerland, where the expert will make a report, Kir shared his opinion on the prospects of crypto trading and the approach of overseas investors to investing in ICO.
Interviewer: Blockchain & Bitcoin Conference Switzerland (BCS)
Speaker: Kir Kelevra (K.K.)
BCS: How will investors change their approach to investing in digital assets in 2018 compared to 2017?
K.K.: In 2018, ordinary investors will be disappointed. First, as it becomes obvious, most projects after ICO do not develop a product, but spend investments on marketing and image. This situation will make investors more conservative and prudent when choosing investment objects in the future. I think that the main areas for significant investments will be infrastructure projects that attract investments not publicly, but receive funding in closed rounds.
---
BCS: What changes in cryptocurrency and token regulation does overseas crypto community wants the government to make?
K.K.: The American judicial system is extremely expensive, therefore, there will be no significant changes without any directives and permissions from the U.S. regulator. All hedge funds and investors are looking for loopholes and tricks in order to invest in cryptocurrencies, but the SEC warns them against such investments. According to the regulator, the cryptocurrency market hasn't reached the level yet when it could be included in the global financial ecosystem. Therefore, the SEC adopted a wait-and-see attitude, looking for the best options for regulating the crypto market. Some financial assets, such as non-deliverable futures, have already received permission from the SEC to trade on exchanges. But it has no direct relation to cryptocurrencies, only the indirect one.
---
BCS: How do you see the future of cryptocurrency trading? Are there any fundamentally new ideas in the world that would change the way we approach trading?
K.K.: The modern crypto trading system has fully established itself as a deadlock one, as it discredits the credibility of the entire industry. Platforms, called crypto exchanges, has too many levers for manipulating data, including cryptocurrency prices. I believe that this must be stopped, and my opinion is shared by all adequate participants of the crypto market, offering various options for building a crypto trading system. However, few people think about the infrastructure and protocol solutions. There are only a few teams with interesting concepts developing game rules that satisfy every market participant. They are trying to balance the level of influence on the market in the whole crypto trading ecosystem. Today, we see a huge preponderance of forces, but soon it will change.
---
BCS: Tell us a little more: what will you talk about at Blockchain & Bitcoin Conference Switzerland?
K.K.: At the conference in Switzerland, the first part of my report will be dedicated to the discussion of modern crypto trading problems, while the second one will cover their solutions. I will talk about what infrastructure projects should be developed on the market. Perhaps some companies will understand if there are shortcomings in their crypto projects, and change the development vector in the right direction.
Register to Blockchain & Bitcoin Conference Switzerland ►►►
Subscribe and receive full program of the conference