Innovative Platform CoinLoan to Become an Exhibitor at Blockchain & Bitcoin Conference Switzerland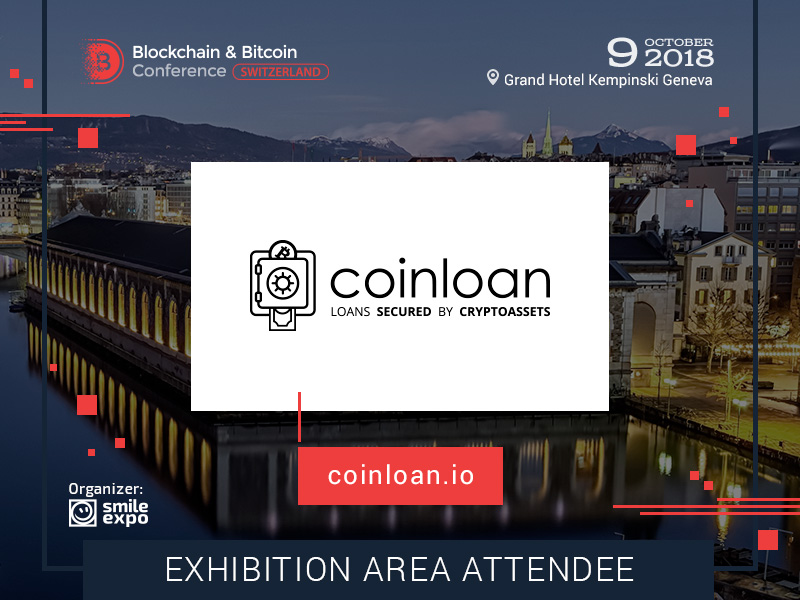 The border between fiat and virtual currencies is one of the main complications within the lending system. The platform CoinLoan has found a way to avoid any additional costs and keep revenue while exchanging different currencies.
At Blockchain & Bitcoin Conference Switzerland organized by Smile-Expo, the DLT-based platform CoinLoan will become an exhibitor and will acquaint visitors with its unique ideas and solutions for the sphere of finances.
CoinLoan is the platform that combines a traditional lending system with the DLT. The main goal of the company is to provide advantages for both money lenders and borrowers. For this purpose, CoinLoan offers an opportunity to receive money in any currency backed by crypto assets.
The system is automatic, and there is no need to go through the process of verification or follow a lot of formalities. Users receive money fast.
More than that, the system is flexible, which means that borrowers and lenders can change roles fast and without any complications. There are no limits for lenders to issue loans, and they can be sure that the complete repayment with the interest will be received without any delays. The loan can be given from any point across the globe and from any individual without licenses.
Borrowers benefit from CoinLoan as well as they don't have to sell digital assets to receive money anymore. Moreover, users should not worry about the time. What is also important, those who want to borrow money don't have to prove their payment capacities and provide a credit history.
Currently, the platform's team is developing mobile applications for iOS and Android. Then, CoinLoan plans to enter the Asian market in 2019.
Blockchain & Bitcoin Conference Switzerland will take place on October 9. The early bird offer for tickets is valid until October 8.
The organizer of the event is an international company Smile-Expo that has already held 45 events in 25 countries.
---
More information about the event and registration.
Subscribe and receive full program of the conference