Director at PwC Legal Switzerland Tina Balzli: Legal Sphere of Blockchain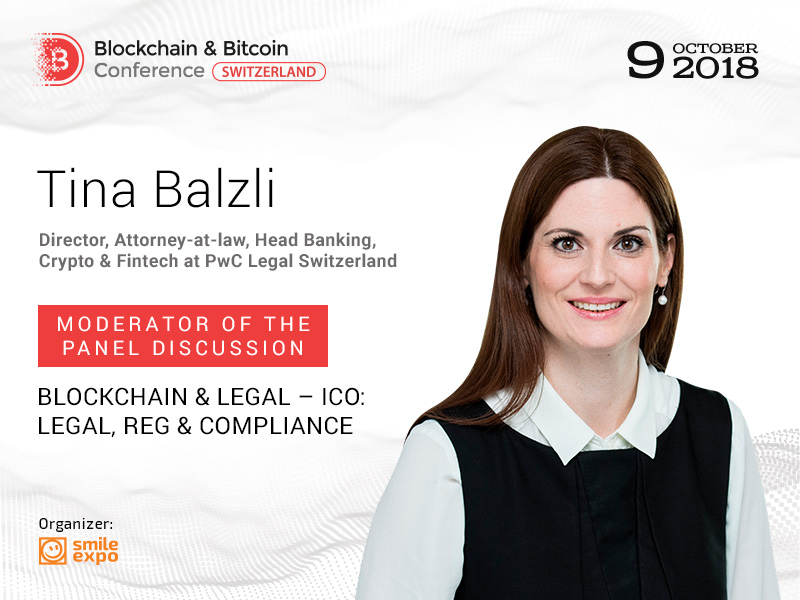 Switzerland is a blockchain-friendly country – businesses and entrepreneurs are moving their offices to its 'crypto valley'. What makes the country so welcoming in terms of the DLT regulations and how does blockchain comply with the legal policy?
The questions will be addressed at Blockchain & Bitcoin Conference Switzerland. Director at PwC Legal Switzerland Tina Balzli will moderate the panel discussion "Blockchain & Legal" and analyze the issue together with other speakers.
Tina Balzli is a qualified expert in banking, finance, insurance and capital markets. She has experience of working in the leading Swiss law firms.
Currently, the speaker holds a position of Director, Attorney-at-law, Head Banking, Crypto & Fintech at PwC Legal Switzerland. PwC is an international firm providing financial services and consultations. The company is one of the corporations of the Big Four accounting organizations. Moreover, it is listed in the FTSE 100 companies. The firm assists DLT development – recognizing a big potential and future possibilities of the technology, PwC helps other corporations with its integration.
Apart from that, the speaker is the Member of the Policy & Regulation Working Group at Crypto Valley Association in Zug, a place for DLT ecosystem enlargement.
Moreover, Balzli represents clients in proceedings before the Swiss Financial Market Supervisory Authority FINMA and provides assistance to financial institutions in complying with regulations.
Meet the expert at the conference and learn more about the DLT regulatory compliance!
Subscribe and receive full program of the conference