Blockchain & Bitcoin Conference Switzerland: meet conference program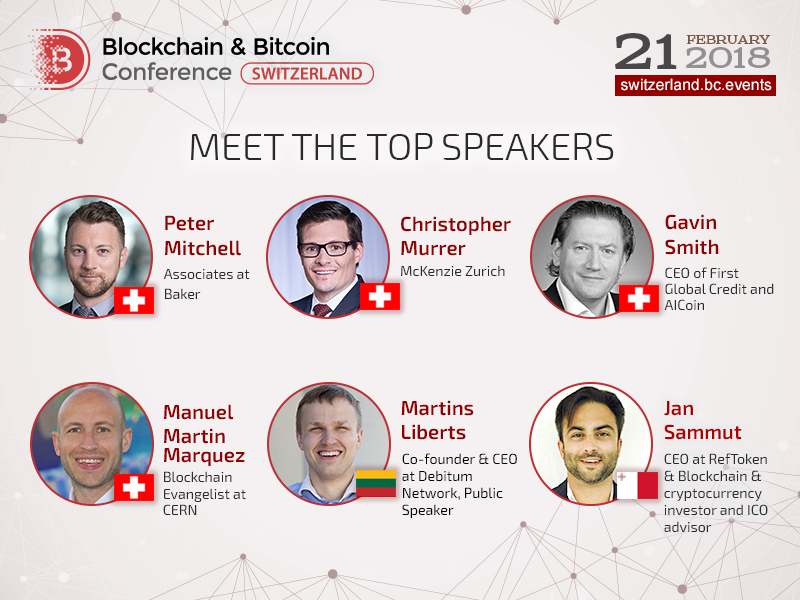 A program of Blockchain & Bitcoin Conference Switzerland has been already confirmed: the event will involve Swiss and world experts in digital currencies, blockchain, and investments.
On February 21, in Geneva, participants will discuss cryptocurrency industry trends as well as issues related to blockchain and ICO (Initial Coin Offering) – cryptocurrency crowdsales.
The headliner of the conference will be Manuel Martin Marquez, Big Data Project Leader and Blockchain Evangelist at European Laboratory for Nuclear Research (CERN). He will reveal an intriguing topic: possibilities for using blockchain in basic science. expert will also tell the audience about his collaborative blockchain project along with NASA: the development of a decentralized system for publishing scientific materials. This publishing blockchain is designed for changing the existing system that fails to satisfy authors and readers and making scientific knowledge more available.
A presentation of Martins Liberts, Co-founder & CEO at Debitum Network, will address CEOs of blockchain companies launching ICOs. His topic: Self-regulated ICO – a way to build trust in the crypto world and secure contributions. The ICO issue will be also discussed by Jan Sammut (10 Steps to launching a successful ICO), an expert from Malta and ICO advisor, and Gavin Smith (How ICOs are disrupting the Venture Capital paradigm of startup investment), CEO at First Global Credit and AICoin. A discussion panel will be also dedicated to crowdsales, allowing to talk about legislative regulation and apparent signs of scam projects.
Peter Mitchell and Christopher Murrer (Switzerland) will make a presentation on the taxation of blockchain companies. Experts are Associates at the major Swiss law firm: Baker & McKenzie Zurich.
Companies: conference participants
The event will feature an exhibition area where 15 companies will introduce their projects, including Exenium (a cryptocurrency exchange service integrated with messengers), Crowd For Angels (a crowdfunding blockchain service), PHItoken (an automatic asset management platform), CoinTraffic (an advertising blockchain network) and others. Leading conference sponsors are DEEX.exchange, Healthureum and FarmaTrust healthcare projects, as well as Friendz social media marketing project.
Venue and organizer
The conference will take place at Grand Hotel Kempinski, a five-star hotel in the very heart of Geneva with an all-round view of the city and the Lake of Geneva. Blockchain & Bitcoin Conference Switzerland is included to the international cycle of events organized by Smile-Expo. In 2018, conferences of this series will be held in more than 20 countries, such as Russia, Australia, the Philippines, Turkey, Nigeria, and a range of European countries. Some of these events are aimed at the audience consisting of over 2000 people.
Subscribe and receive full program of the conference