Best New Cryptocurrencies for Investment in 2018: Top 5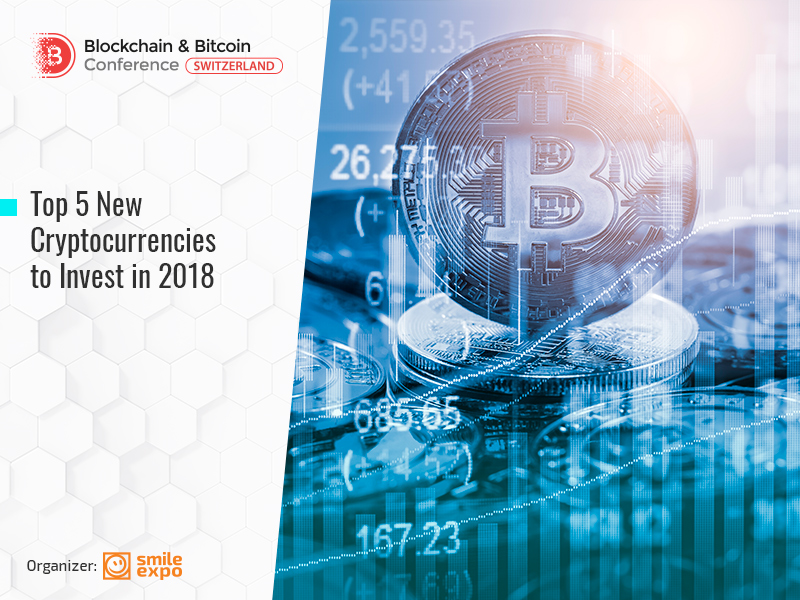 Cryptocurrencies have revolutionized the way traditional financial institutions and payment systems work. Today, crypto market is an attractive place for investing and making profits in the future.
According to CoinMarketCap, there are 1722 digital coins already. Also, more cryptocurrencies appear every day, and it provides crypto enthusiasts with a large choice. Of course, BTC still stays the most popular coin familiar to everyone. However, other coins also demonstrate positive tendencies and great reliability. We are suggesting to analyse the crypto market, discover the advantages of making investments and look at the most promising cryptocurrencies in 2018.
Crypto market today
On August 1, 2018, total cryptocurrency market capitalization is $271,612,781,952 with a 24-hour volume of $16,184,184,251. According to capitalization, the leading coin is BTC but it is also the most expensive – the price of one BTC is $7,603. The main coin is followed by such market leaders as Ethereum, BTC Cash and Litecoin.
For those willing to invest in crypto coins, it is important to keep in mind that not every altcoin can bring profit, and some currencies fail to succeed. So, it is crucial to carefully choose an altcoin to invest in.
How to choose coins for investment?
One of the most important aspects to pay attention at is the coin's development. For instance, the coins which are developing and not standing still may renovate their platforms or establish cooperation with big corporations or financial institutions. Getting listed on new exchanges and consistently introducing updates shows that the coin is going on the right path.
Stability is an important sign of a reliable coin as well as it creates trust in cryptocurrency.
Why to invest in cryptocurrencies?
Investing in cryptocurrencies is not very different from investing in traditional assets. The majority of people make long-term investments, others just invest short-term and trade coins – it only depends on your personal aim.
Most of the people, however, are making long-term investments, expecting high returns with time. And it is easy to explain – just look at Bitcoin! Who knew that BTC will rise from $1 in 2011 to $19,000 in 2017?
If you want to have a successful scenario with your investment and not lose your capital, always analyse the coins you are planning to buy. We have prepared a guide on the best digital coins for investment in 2018. Let's take a look!
Which new cryptocurrencies are the best for investing in 2018?
Making investments is worth it if the coin shows positive tendencies. It is also important to look at the market cap and familiarize yourself with details. Here are the top 5 altcoins safe for investment in 2018.
The market capitalization and volume are true for August 1, 2018.

| | | |
| --- | --- | --- |
| Coin Name | Market Cap | Volume (24h) |
| Cardano (ADA) | $3,627,152,423 USD | $92,961,736 USD |
| NEO (NEO) | $1,921,152,880 USD | $71,104,455 USD |
| TRON (TRX) | $2,166,724,868 USD | $188,432,756 USD |
| Ethereum Classic (ETC) | $1,642,648,082 USD | $190,932,612 USD |
| Monero (XMR) | $2,006,126,290 USD | $33,946,451 USD |
Cardano platform is comparatively new – it has appeared in September 2017. Just after two months, in November, the platform's currency – Cardano (ADA) has entered the list of top ten cryptocurrencies in terms of market capitalization. Currently, the coin is ranked to be the 8th one. The cost of Cardano is approximately $0,14 and the current circulating supply of coins is 31 billion out of 45 billion. Experts stay positive about the coin and make promising forecasts about the future. The only thing to keep in mind is that the coin is not aimed at fast profits, however, it is the right choice for long-term investments.
NEO is a coin with a very promising future due to several factors. First, NEO is associated with Onchain – a platform assisting businesses with DLT integration. The platform is improving fast, and its growth also helps NEO to attract more investors.
What is also important, NEO is cooperating with a big mount of companies. For instance, in December 2017, it has become partners with 18 well-known financial institutions. Moreover, the platform is introducing updates and innovations. Its current price is almost $30.
Tron is known as a platform for building and storing applications. There, any user can create content and launch their own digital currency. The aspect which captures attention is that Tron's developers come from Microsoft, Alibaba and Baidu.
The other positive sign is that Tron also has acquired a big software company BitTorrent, aiming at expanding even more.
Currently, TRX seems to be very promising and it also cheap – the price is just $0.03.
Ethereum Classic is a coin which has appeared in 2016, and is currently very attractive to investors due to its upcoming Coinbase listing. So, the altcoin is experiencing a very big increase in daily transaction rates. Another sign of a coin's development is that ETC's team has recently announced that the crypto coin is planning to enter the IoT market – a big improvement.
ETC also utilizes the trustful developed technology, for instance, it has a mathematically verified EVM. The current price of ETC is almost $16.
Monero is an attractive crypto coin due to its transactions information security. It provides users with high level of anonymity, making private transactions possible. Also, compared to BTC, Monero is fungible – therefore, currency units have no difference in the process of the mutual substitution. The coin looks promising, shows positive signs and costs $123.
Investing in cryptocurrencies can bring large profits in the future and is usually worth it if coins show positive tendencies. Remember that investments are always risky, however, if you analyse the market and find a right crypto coin for yourself, you can become the lucky winner.
Subscribe and receive full program of the conference