We Expect More Blockchain Services' Providers to Get Licensed in Liechtenstein – Yanina Petrovskaya, Rechtsanwälte Lennert Partners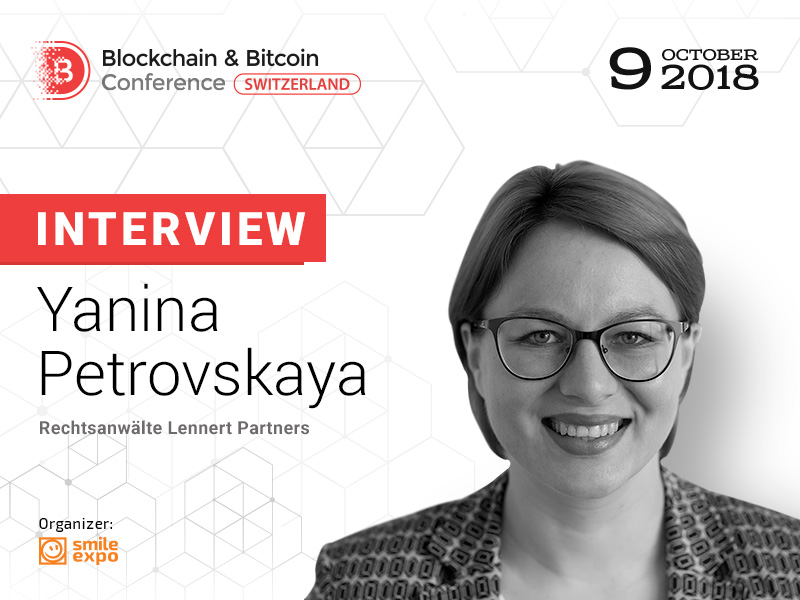 Most complicated cases in blockchain industry are related to payment services and bank relations, believes Yanina Petrovskaya, the Head of Legal & Compliance in Rechtsanwälte Lennert Partners. Answering our rapid-fire questions, the expert talked about complicated issues within the fintech industry, shared plans of RLP and gave advice on legal and tax asset planning.
Interviewer: Blockchain & Bitcoin Conference Switzerland (BCS).
Speaker: Yanina Petrovskaya, Head of Legal & Compliance in Rechtsanwälte Lennert Partners (YP).
BCS: What advice regarding cryptocurrencies and ICOs do you provide?
YP: We provide tax & legal services for ICO / TGE / STO and crypto funds. These consultations are done mainly in Liechtenstein but also with our partners – licensed attorneys in Switzerland and Malta.
BCS: Tell us about the most interesting cases you had an experience with.
YP: Without mentioning names, the most interesting projects were with token on debt receivables in Liechtenstein, with tickets' tokenization and on tokenization of commodities.
Also, we had interesting projects in art & blockchain, support of crypto funds and several projects on tokenization of companies' shares in Switzerland and Liechtenstein.
BCS: What are the most complicated cases in the fintech industry which require a lot of analysis?
YP: Most complicated cases or parts of the projects are related to payment services and bank relations. They seem to hold up the whole blockchain industry. However, we see more and more small and medium banks entering the market for bank accounts of fintech and blockchain companies.
BCS: You offer consultations on legal and tax asset planning in different countries. Could you tell us what advice you give to companies in Switzerland regarding this issue?
YP: We support a lot of international clients who plan or already have their holding companies in Switzerland and Liechtenstein, not necessarily related to blockchain.
The only serious advice is to structure tax and corporate issues in advance. So, make a decision about tax residency of the founders and, if necessary, move to a different country. Then, structure transactions from tax point of view and structure corporate governance properly for the worst-case scenario. Also, agree with local tax & migration authorities in advance on taxes, residence permits, etc.
BCS: What are the key elements to know before founding a private fintech organization in Switzerland?
YP: You need to check whether the whole business model will work and what the costs will be.
The main issues before company's foundation are a financial market license which is costly in Switzerland, tax structuring, migration issues for the team, company's foundation and regular costs.
BCS: What other consultations are you planning to introduce in the future?
YP: Well, we already offer mostly package solutions and budgets for every sort of projects we do.
Thanks to the Liechtenstein Blockchain Act to be enacted in the beginning of 2019, we are expecting more blockchain services' providers getting licensed in Liechtenstein. We are preparing new package solutions for new types of licences.
Yanina Petrovskaya will be a speaker at the Blockchain & Bitcoin Conference Switzerland, where she will deliver a presentation "Liechtenstein as excellent base for blockchain projects."
Her company Rechtsanwälte Lennert Partners has become the bronze sponsor of the event.
Learn more about the blockchain sphere in Liechtenstein from the expert at the conference!
Subscribe and receive full program of the conference