Vladislav Sapozhnikov: "Code of rules for ICO will lead to market stabilization"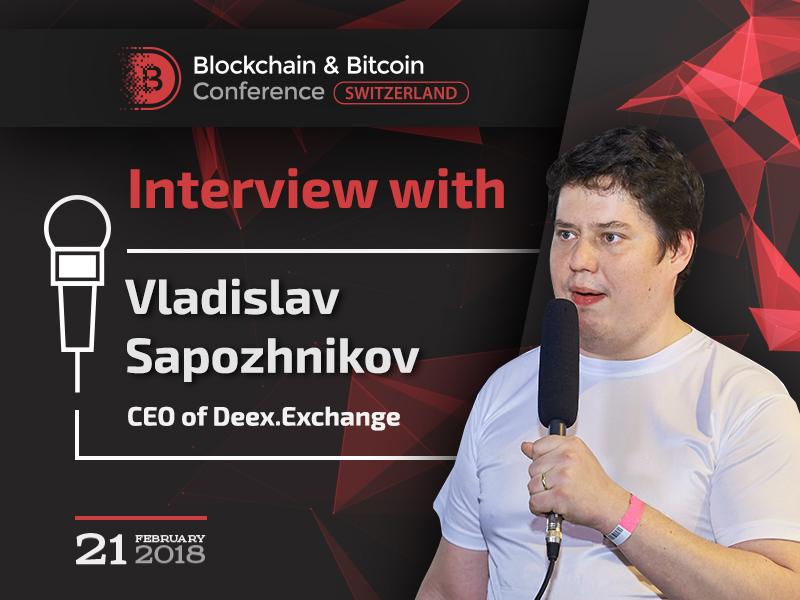 Today ICOs are held only to raise as much money as possible, few teams are developing products, says the CEO at Deex.Excange Vladislav Sapozhnikov. The project, which he heads (a decentralized cryptocurrency exchange), collected a third of required funds in the first week of sales and launched a beta version of the product for closed testing. In his interview for the BBC Switzerland press service, Mr. Sapozhnikov talked about how he sees the modern blockchain development field and why ICO as an investment method has a shady reputation today.
Interviewer: Blockchain & Bitcoin Conference Switzerland (BCS)
Speaker: Vladislav Sapozhnikov (V.S.)
BCS: Why do you think platforms like BitShares are the future of blockchain technology?
V.S .: BitShares today is the most underappreciated blockchain. It is also the most loaded one in terms of transaction volume. If we talk about blockchain as a real technology, and not as a by-product that owes its appearance to bitcoin, then its usefulness and applicability should obviously be measured by its relevance, use, and employment.
The speed in the BitShares network reaches 100,000 transactions per second. I think, if we talk about building highly loaded transactional systems, BitShares is the best option. Its only drawback is the lack of strong marketing and a community, which other cryptocurrencies have. I believe we can bring these elements to the BitShares ecosystem, which will lead the coin to grow to a fair market value.
---
BCS: The popularity of blockchain is growing by leaps and bounds, but most of the population still does not understand what it is. Do you think it is necessary to hold a mass blockchain education program? Where would you start?
V.S.: Popularity is caused by hype. The blockchain technology in theory exists for 9 years and implements the solution of the problem of double costs in digital assets transfer, but a massive practical application has not yet been found. I believe that not only the population, but also potential consumers of blockchain themselves, do not fully understand what it is needed for. Regarding educational programs, I'll say one thing: we regularly hold them, we are a large community that often meets up and invites specialists from various sectors and blockchain professionals.
---
BCS: What do you think should be done to increase the credibility of ICO?
V.S.: Creating products, rather than hype around the ICO and collecting colossal funds that will go God knows where. Only one-hundredth of the projects that held an ICO have the product, plus it's in the form of a weak beta version, which is not in mass demand. Now ICO is held only for the sake of ICO, startups compete in the amount of collected money.
---
BCS: The Swiss Crypto Valley Association has announced the creation of a certain code of rules for the ICO. What are the pros and cons of this innovation? Is something similar possible in Russia?
V.S.: I believe that this is an excellent initiative. With proper implementation, it will lead to stabilization of the market and make it more civilized. It can also lead to an increase in the number of good ICO projects. The Russian Federation is also working in this direction. There even have been attempts to launch some regulated ICOs. So the process is on.
---
BCS: The issue of instability of the cryptocurrency rate is a hot topic right now. What future do you think awaits bitcoin? Is bitcoin a so-called bubble?
V.S.: Bubbles, at one or another stage of development, are usual for financial markets. Tulip mania, gold rush, railroad boom, mortgage crisis – all this has already happened in the economy. The cryptocurrency market also has elements of a bubble in it. Cryptocurrency is not widely used anywhere, it does not act as money. Perhaps, on the basis of all the cryptocurrency variety, in the foreseeable future a certain crypto 2.0 will appear, which will become an ideal digital value.
Learn more at Blockchain & Bitcoin Conference Switzerland!
Subscribe and receive full program of the conference