Top 10 Tokens to Invest in 2018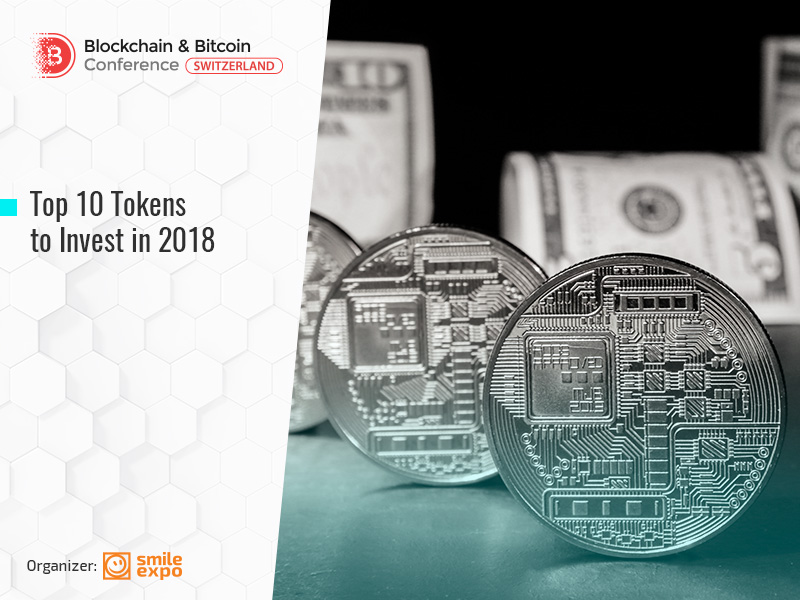 Today, DLT is a technology which enters almost all existing industries. There are various decentralized platforms aimed at improving the operations of companies, and these platforms are issuing tokens.
According to CoinMarketCap, the total token market capitalization is $13,518,809,100 in August 15, 2018. Some tokens serve as means of payment, others allow access to platforms and their utilization. Before investing into a certain token, it is crucial to understand what it can be used for. We are suggesting discovering which tokens are worth investors' attention and which ones are the safest to invest in this year.
What are tokens doing?
Tokens may serve as a medium of exchange or store a certain value. Mostly, tokens are used on the platform which has issued them – to gain access, use the services or pay for them. For instance, if the tokens are issued by the decentralised real estate platform, holders can use them to invest in property.
Tokens are issued via ICO – this way, the platform raises capital for further development of its services.
Investing in tokens
If you are planning to invest in tokens, there are several aspects to keep in mind. Buyers should familiarize themselves with the platform – look at its goals, services, and development tendency.
If the platform introduces updates, expands and improves the quality of its services – it gains more trust among investors. Token's appearance on exchanges is also a positive sign of its security.
Which tokens are the best for investing 2018?
Before investing in tokens, it is important to keep in mind the success of platforms behind them. Also, investors should pay attention at the market cap and check unique elements of the chosen token. Here are top 10 tokens recommended for investment in 2018.
The market capitalization and volume are true for August 15, 2018.

| | | |
| --- | --- | --- |
| Coin Name | Market Cap | Volume (24h) |
| Tether | $2,410,856,041 | $3,119,171,022 USD |
| Binance Coin | $965,592,904 USD | $38,659,180 USD |
| OmiseGO | $514,204,764 USD | $34,577,202 USD |
| 0x | $391,245,592 USD | $17,127,040 USD |
| Maker | $275,093,379 USD | $447,689 USD |
| Zilliqa | $225,859,585 USD | $12,094,353 USD |
| Aeternity | $214,024,372 USD | $16,965,329 USD |
| Basic Attention Token | $198,757,594 USD | $4,683,103 USD |
| Ontology | $195,510,493 USD | $19,925,770 USD |
| Augur | $188,345,692 USD | $16,167,856 USD |
Tether (USDT)
Tether crypto token is launched on the BTC blockchain with the utilization of the Omni protocol. It is an unusual and controversial token as it is claimed to be backed by the US dollar, therefore, the price of one token is $1.
This crypto token is believed to be worth investing in as it is stable – its price does not change. The token converts fiat into the stable digital currency, adding such benefits as transparency, security and safety.
Binance Coin (BNB)
Binance Coin has been launched in July 2017 and has been first traded in January 2018.
The token is a trusted one as it is the digital currency of one of the top exchanges Binance. Binance Coin works on the ETH blockchain and is used to power its exchange's ecosystem. The token is mostly utilized for paying for trading fees on exchange.
As of August 15, 2018, the price of token is $10.11.
OmiseGO (OMG)
OmiseGo is the token of the Omise company founded in 2013. It has a separate open payment platform and tokens are owned by platform's users, and not the company.
OMG is trusted by investors – its ICO in 2017 has raised over $25 million. More than that, one of the platform's advisors is the ETH co-founder Vitalik Buterin.
OMG token operates on the ETH standard, and it was the first ETH project which has exceeded $1 billion valuation. The price of the token is $3.67.
0x (ZRX)
0x is the project allowing ERC20 tokens to be traded on the ETH blockchain. In July 2018, the token gained a lot of popularity after the announcement that Coinbase is exploring the addition of ZRX token to its platform.
Another sign of the token's potential is the result of its ICO in August 2017 – the platform has raised $24 million. Currently, the price of ZRX is $0.7.
Maker (MKR)
Maker is not an ordinary project. It is a DLT-based organization working on ETH blockchain and aiming at minimizing the volatility of its own coin Dai against dollar.
So, Dai is a stable coin with the price of $1. It is the product of the Maker platform, and MKR is the governance and the utility token.
Being a utility token, MKR pays the fees for generating Dai, while playing a role of the governance token, MKR is used by its holders to vote for various decisions to be taken within the Maker platform. Its price is $411.68.
Zilliqa (ZIL)
Zilliqa platform was created to host DApps and enable their easy development. ZILs are non-fungible tokens of the platform which allow gamers to own and custodize assets. The price of 1 ZIL for August 15, 2018 is $0.03.
The project also attracts investors as Zilliqa is among the first platforms to offer a design to sharding – DLT scaling method which allows networks to scale by dividing them into shards.
Aeternity (AE)
The coin was issued in 2017, and in April 2018 has raised in price by almost 47%.
Aeternity is a promising token which reminds ETH in its several aspects, for instance, its platform aims at increasing the quality of smart contracts for lower-cost transactions.
The platform also introduces an innovative consensus algorithm – the hybrid of PoW and PoS. for August 15, 2018, the price of AE token is $0.9.
Basic Attention Token (BAT)
Basic Attention Token platform revolutionizes the sphere of digital advertising. BATs are exchanged between publishers, advertisers and users improving the efficiency of the industry. The intention of the platform is to fight existing digital advertising problems, such as existence of middlemen, frauds and inefficient results.
BATs can be used to utilize services offers by the Brave platform – browser which blocks trackers. One BAT costs $0.2.
Ontology (ONT)
Ontology was launched by the successful crypto company Onchain. The purpose was to provide businesses of any sizes with the unique opportunity – to integrate DLT into their working processes without changing their systems.
Ontology token has an advantage of making transactions anonymous and uses VBFT consensus mechanism – the mix between PoS, BFT and VRF. The token costs $1.29.
Augur (REP)
Augur is the protocol used for making predictions and future forecasts, such as the results of elections, weather conditions or companies' success.
Users can choose what exactly they want to predict, create a market and trade on the chosen event's outcome by buying and selling shares. Then, the outcome is reported, and winners are paid out.
The platform uses 2 tokens – ETH and its own REP. Trading on the platform is done with ETH, while REP is used for reporting and disputing the outcome of events. The price of the token is $17.12 – for August 15, 2018.
Holding tokens may bring different opportunities, from accessing certain services to gaining profits. However, before any investment, it is important to analyse the market and choose the tokens which meets your goals and ensures security.
Subscribe and receive full program of the conference