Top 10 Blockchain and Crypto Companies in Switzerland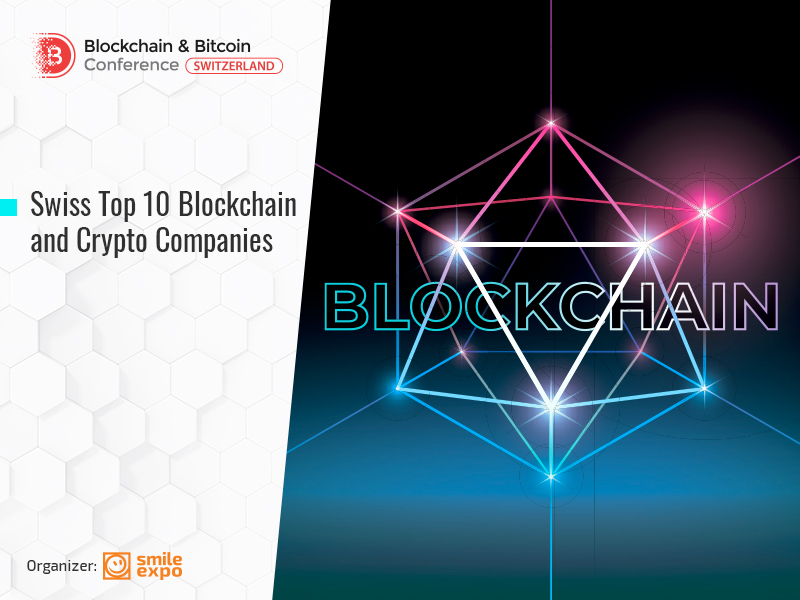 It is not a secret that Switzerland is one of the leading countries in Blockchain development. It attracts investors from all over the world by creating a positive environment for startups' development and crypto business enlargement.
Switzerland has got a title of the most crypto-friendly country due to its digital coins hub – "crypto valley" which is situated in Zug. It is "home" for DLT-based organizations with low taxes and welcoming policies for businesses.
Moreover, crypto regulations suggested by the government officials are future-oriented and aimed at technological development. They serve not as limitations but as guidelines for corporations integrating DLT in their operations.
One of the most important reasons for country's quick DLT adoption is the big amount of qualified companies spreading the technology. We have prepared a list of the most influential Swiss DLT-based corporations. They are presented below.
Ethereum
Ethereum is a DLT-based platform running smart contracts and helping users to build decentralized applications. It was established by the Ethereum Foundations – Swiss non-profit organization.
The platform offers an opportunity to design and launch new digital coins. For instance, users can create tradeable tokens with a particular supply, CB with an ability to issue money and puzzle-based cryptocurrency.
Currently, Ethereum coin is marked second in the market capitalization list of cryptocurrencies – on August 3, 2018, its market cap is $41,481,835,756 USD.
Lykke
It is a marketplace helping everyone to trade BTC, ETH, foreign exchange and digital assets of any type and transaction size. The company was established in 2015 and currently provides easy access to market for anyone in any country.
The platform aims at making the market more efficient and creating the support of trading any objects with any values.
Moreover, the company offers a digital wallet – a free app for smartphones.
Xapo
Xapo is a company focused on operations with BTC – it provides tools for buying and securely storing it. The corporation offers a wallet, vault and BTC-based debit card.
Xapo sees trust as the most important element for BTC development. Paying a special attention at the coin's stability and security, the organization provides an innovative approach to digital currency. Offering an easy-to-access wallet and a highly secure vault, Xapo connects convenience and safety.
The platform was founded in 2014 and moved to Zurich a year later due to the city's stable regulations.
Metaco
Metaco SA is a DLT-based organization developing solutions for banks and other financial institutions. It was developed in 2014, and from that time it has been helping national banks to integrate DLT in their services.
Then, it has launched a new platform SILO which provides a crypto wallet management system with custody and secure processing of transactions. SILO by Metaco also offers multi-signature wallet which can also manage several accounts.
iProtus
iProtus is a company working with software development and helping users with new DLT-based business models integration.
The platform reinforces brand security of its clients, provides technical and strategic consulting and advises customers with adoption of such solutions as cryptography and BTC integration. The company also follows KYC and AML policies.
Monetas
Monetas is a platform for crypto transactions of any kind. The main components of the company's work are security, speed, and affordability.
The company's goal is to build a free, prosper and wealthy world, and for this purpose, it is following three important elements: greater security of property, lower transaction costs and larger economic networks.
Bitcoin Suisse AG
The company offers various financial services, for example, brokerage, ICO advising and other. It is based in Zug and being established in 2013, it has won a full trust of its users by today.
Among the provided offers of the company there are asset management, trading and mining. Bitcoin Suisse AG also has its own network of crypto ATMs in big Swiss cities.
Gatechain
Zurich-based company Gatechain is working on the solutions for improving trading and the whole financial sphere.
The platform develops solutions for eliminating risks and lowering time and cost, while still helping with getting better result.
Gatechain is also a developer of an application which assists in issuing smart contracts such as bill of lading. With this solution, the platform helps to remove paper documents, making financial processes easier and faster.
Bity
Bity is a platform for buying and selling BTCs and ETHs for CHF and EUR. It also offers another solution for acquiring digital coins – its users are able to buy crypto with cash using one of its ATMs located in different Swiss cities.
The company is compliant to Swiss legal regulations and ensures high level of privacy for its customers.
WB21
The company redefines banking offering new solutions for the sphere. It helps its clients with opening accounts in 28 currencies. WB21 has become the first digital bank accepting deposits in BTC. Customers willing to transfer funds into their checking accounts are able to do so with the help of BitPay system.
The service is available for 180 countries in the world, with a 24/7 verification and activation in a real time.
Users only need several minutes to set up an account with WB21. Moreover, the platform helps to reduce costs of transactions, compared to the traditional banking system. It also ensures fast and easy cross borders payments, transforming the standard banking operations.
Switzerland's DLT ecosystem and its prospects will be discussed at the Blockchain & Bitcoin Conference Switzerland. Details of the event and registration – on the official website.