The most promising cryptocurrencies for investing in 2018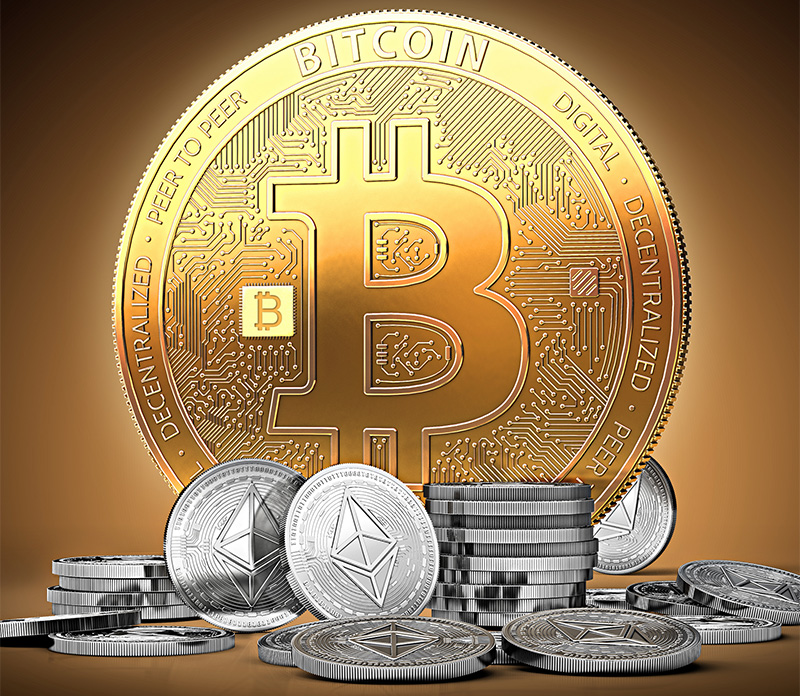 There are more than 1300 cryptocurrencies in the world now. In 2017 alone, over 400 types of coins were created. It is getting more and more difficult to choose an altcoin for making investments. Our review covers promising cryptocurrencies that will be most suitable for investing in 2018.
Promising cryptocurrencies 2018
Public interest, active developments, and support of the community – all these factors influence the price of coins. Taking it into account, as well as liquidity, stable price growth, and reputation of developers, the list of top promising cryptocurrencies 2018 looks as follows:
Bitcoin (BTC)
At the initial stage of development, one BTC was worth less than a cent. Back in spring of 2011, you could purchase Bitcoin for just $0.8–$1.0. In December of 2017, the price of ВТС tokens has surpassed $17,000. A number of experts believe that is not the limit yet. In 2018, Bitcoin price may increase to $50,000. At the same time, mining gets more complicated, requiring enormous amounts of computational power.
Ethereum
The cryptocurrency has shown a superb growth in 2017. One Ether was offered for $6-$7 in January and in December, its price exceeded $800. The forecast for 2018 is optimistic. The popularity of smart contracts will facilitate the growth of this cryptocurrency.
Ripple
Ripple is among top most high-value cryptocurrencies. The cost of XRP has risen by 3803% in 2017. Ripple has contracts with more than 100 large banks throughout the world, including BBVA, UniCredit, UBS.
Ripple has been supported by such major corporations as Google Ventures, Andreessen Horowitz, Accenture. Consequently, this digital currency has favorable conditions for further growth.
Monero (XMR)
The cryptocurrency price has grown by 2900% in 2017. In 2018, popularity of XMR will be boosted by attention of 45 celebrities, including Lana Del Rey, Sia, and Dolly Parton. They are planning to accept payments in XMR. Moreover, the growth of price over the whole 2018 is possible due to anonymity, as Monero does not reveal transaction details.
Litecoin
Litecoin is considered the main alternative of BTC. This cryptocurrency has grown by 8400% in price in 2017. A rapid growth is forecasted for Litecoin in 2018. Its price may rise to $700, which is the main reason why Litecoin can be referred to as a promising cryptocurrency of 2018.
Dash
Dash has set many records in 2017. At the beginning of the year, its price has grown by nearly 100 times. In January, you could buy one coin for just $11. In December, its price exceeded $1100. In 2018, Dash may show growth due to decentralized management system.
NEM
NEM gained popularity in 2015, driven by active trading on various exchanges. In 2017, its cost has risen by several thousand percent. The reason for that was the attention paid to NEM blockchain by Japanese banks. In the future, developers plan to enter the markets of most Asian countries.
IOTA
The distinctive feature of IOTA is that it has no transaction fees, mining, or blocks. In 2017, it has shown an increase of 623%. IOTA has recently partnered with Microsoft. As a result, it has entered the top of most valued cryptocurrencies.
EOS
EOS, the main rival of Ethereum, is not just another cryptocurrency. EOS is a serious business platform integrated in blockchain. Today one EOS coin costs not more than $11. This makes it attractive for investments and a top promising cryptocurrency. Experts forecast that in 2018 the price can change, going up.
NEO
NEO's price has increased by 24,685% this year. In case the pressure on ICOs and Bitcoin is eased in China, NEO is forecasted a nice future there. In early 2018, NEO's price may equal to $100-120. The price will mainly depend on the release of the second part of coins, a step that might slightly reduce the cost of NEO.
New cryptocurrencies in 2018
You should not focus on popular cryptocurrencies only. New cryptocurrencies also offer nice possibilities for investing at inception. The most profitable and promising among new digital currencies are:
Factom,
Ardor,
Stratis,
Waves,
Zcash,
Stellar,
Lisk,
Nxt,
Iconomi,
Lumens.
The cryptocurrency market is changing rapidly. Altcoins can quickly gain popularity, and grow in price and lose value just as quickly.
Learn more at Blockchain & Bitcoin Conference Switzerland!
Subscribe and receive full program of the conference