How Wealth Management Means Are Changing? Answer from Founder and CEO at SwissBorg Cyrus Fazel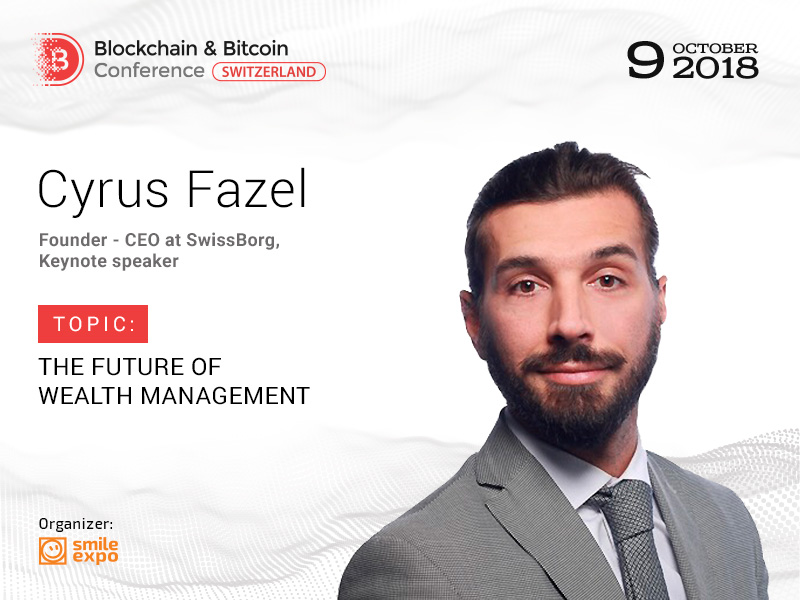 With the innovative digital technology, new regulations and general changes in the financial sphere, the wealth management landscape has altered. What transformations have already taken place and what to expect in the future?
The issues will be addressed at Blockchain & Bitcoin Conference Switzerland. The Founder and CEO at SwissBorg Cyrus Fazel will become the speaker at the event and will discuss the future of financial management.
Key points:
evolution in traditional payment system to peer-to-peer;
investment funds vs. customized smart wallets;
what ISO is;
trust vs. smart contracts.
Cyrus Fazel is the blockchain enthusiast and fintech professional with over ten years of experience in asset management and algorithmic trading.
The expert has established the wealth management platform SwissBorg, where he currently has a position of a CEO. The platform is powered by smart contracts and is based on a Swiss meritocratic system.
The aim of the company is to create an accessible crypto wealth control solution using DLT, machine learning and the community's Swarm Intelligence.
SwissBorg plans to revolutionize the way investments in crypto are made. The company will do it together with its users as, being based on the concept of meritocracy, it distributes CHSB tokens which offer a possibility to become the network developer. During its last ICO, the platform has raised 50M CHF.
Apart from that, the speaker also has the experience of being a co-organizer of Startup Weekend – a platform for education and connection of entrepreneurs all over the world.
Moreover, the expert has also worked in SEQUOIA Asset Management where he has been the head of the platform and Senior Hedge Fund Advisor. Fazel was providing financial consultation at Aramis Capital – investment advice firm as well.
Use a chance to meet the speaker at the conference and learn more about the future of wealth management!
Subscribe and receive full program of the conference