How Assets Are Tokenized? Answer from Marco Abele, Founder and CEO at TEND Technologies AG and Abele Innovation Consulting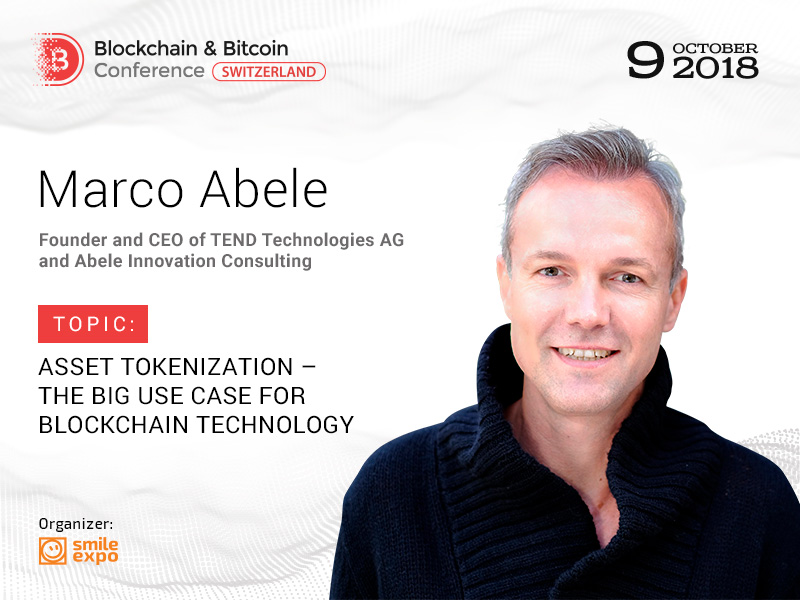 Tokenization is a method that transforms the rights to an asset into the digital form. As the digital representations exist on blockchain, buying assets in tokens guarantees their secure and transparent ownership.
Asset tokenization will be discussed by the speaker of Blockchain & Bitcoin Conference Switzerland – Marco Abele, Founder and CEO at TEND Technologies AG and Abele Innovation Consulting. The expert will explain how assets get tokenized in modern world and will describe the big use case for blockchain technology.
Key points:
how the consumer world changed;
different era: thoughtful consumption and decentralized trust;
how tokenization works;
what ICO tokens represent;
benefits of tokenization.
Marco Abele is a fintech entrepreneur and the Swiss financial industry leader with the experience in private and investment banking.
The expert has worked at the most successful global financial institutions, including Deutsche Bank, where the specialist was the Legal Advisor, Product Manager and Global Program Leader.
Marco Abele has also been in the team of Credit Suisse – the leading financial services company advising clients in all aspects of finance. The specialist started there as the Project Manager, changing role to the Head of Digital Private Banking.
Currently, the expert is the CEO at the company he founded – TEND Technologies AG, the investment platform which enables co-ownership of collectable and precious unique assets.

Apart from that, the professional works for Abele Innovation Consulting – the platform where he provides advice on DLT, helps to create digital business models and assists with understanding fintech sphere.
Learn more about asset tokenization from the blockchain expert at the conference!
Subscribe and receive full program of the conference