Hotmine – the Sponsor and Exhibitor at the Blockchain & Bitcoin Conference Switzerland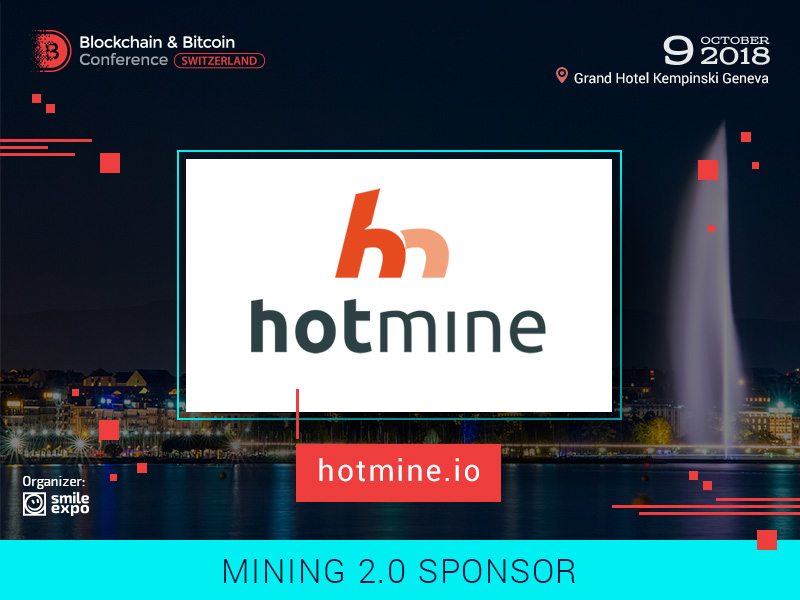 Declining mining quality, environmental issues, and underdeveloped infrastructure are just several complications existing within the mining industry. Conventional approaches result in inefficiency and therefore changes are needed.
Hotmine provides a new insight into mining. Hotmine has become the sponsor of the Blockchain & Bitcoin Conference Switzerland organized by Smile-Expo.
Hotmine was founded at the dawn of the DLT development as a mining equipment manufacturer. Later on, it has transformed into the centre for support of various infrastructure and technology projects in the DLT sphere.
Hotmine was changing together with the industry, which faced a stage of intensive development – Mining 2.0. It is a modern solution for the integration of data processing systems with the household ecosystems.
The heat generated from computing is converted into heat energy for private houses, apartments and cottages, as well as for industrial objects, swimming pools, roads and sidewalks, schools and hospitals.
Today, the company develops modern mining equipment for BTC throughout Ukraine, Georgia, Russia, the USA, India, Canada, Korea, and Kazakhstan.
Hotmine will exhibit its unique solutions at the demo zone – the place where attendees will get acquainted with the latest developments in the DLT industry. Exhibitors, represented by top companies of the industry, will participate in the productive networking, where attendees will have an opportunity to expand business contacts.
Blockchain & Bitcoin Conference Switzerland will take place on October 9. The Early Bird offer for tickets is valid until October 8.
The organizer of the event is the international company Smile-Expo, which has already held 45 events in 25 countries.
---
More information about the event and registration.
Subscribe and receive full program of the conference