DLT - Thierry Arys Ruiz, Founder at TARCO International and AgAu.io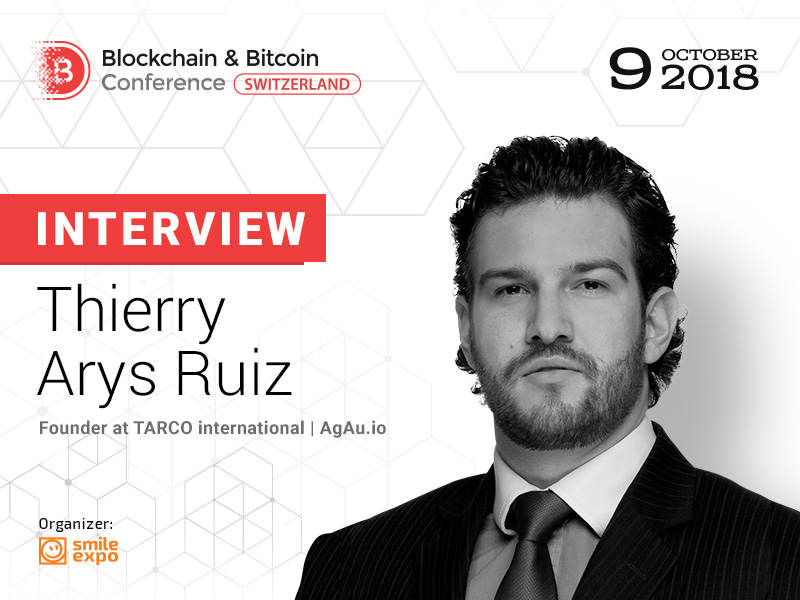 If blockchain is badly implemented into the government system, we can end up with more control rather than more freedom, believes Thierry Arys Ruiz, Founder at TARCO International and AgAu.io. In the interview to the Blockchain & Bitcoin Conference Switzerland, the expert talked about the e-voting, digitalized democracies, and blockchain implementation into governments' systems.
Interviewer: Blockchain & Bitcoin Conference Switzerland (BCS).
Speaker: Thierry Arys Ruiz, Founder at TARCO International and AgAu.io (TAR).
BCS: How are cryptocurrencies transforming the banking system and what real examples can you give?
TAR: Cryptocurrencies are based on blockchain technology, and some of the features can be applied to the old banking system.
If we talk about a trustless Environment/Consensus, DLT allows to eliminate the single point of failure at the banks trust. This creates a better monitoring and transparency on transactions and proof of ownership with multi-party verification depending on how decentralized the system is.
Then, STP - Straight Through Processing. There is no need for T+3 settlement and transaction lag as the transaction goes straight to all parties as soon as "verified" by the ledger.
Also, if everyone uses bitcoin or AgAu.io then there is no need for FX transactions costs, nor Foreign Exchange costs.
Looking at the overall efficiency, because most of the information is processed electronically, there is less room for human error when the information is relayed upon a chain of people or services.
As for more cost savings, many banks and payment services would have a tendency to charge 1% or more on different costs. The blockchain technology, as it becomes more efficient, will have a tendency to bring overall costs down.
Finally, regarding banking the unbanked, 2 billion people do not have access to the traditional banking system, some of them do not even have an address. With AgAu.io you only need a mobile phone and an electronic Ethereum Wallet and you can transact throughout the world.
BCS: Talking about the e-voting on blockchain, do you think this system will be adopted worldwide and why?
TAR: E-voting is a serious matter because politics is one of the pillars of our society. This means it will be adopted rather cautiously worldwide depending on the different political systems. That being said, I am certain that there will positively be a disruption on the current state of democracy.
In Switzerland, we have a direct democracy, it is somehow the most decentralized democratic system in the world, and the regulatory framework is already there. It just needs to be digitalized with the right tools (DLT).
Once this is adopted in a small canton like in Zug, the next canton will adopt it if they like the idea. Next, the whole country does it followed by the neighboring country, until it spreads to the whole world.
People will see the value of a decentralized political system and will demand it. It's an unstoppable force. We have seen it in the past with the French Revolution. "You cannot kill ideas".
BCS: How can this system be implemented in the countries not free from government control?
TAR: In my humble opinion, this is only a matter of time. Such a system is not to be imposed, different societies evolve at different rates and are currently at different stages.
Of course, some societies can leapfrog directly into a better system, but that is for the people to decide. It is for them to demand and fight for the change, not for some savior to come and hand it out or even impose his solution. It is the fate of Nations. I am confident that people will find the right solution for themselves.
BCS: How can blockchain influence the relationships between different governments?
TAR: Ultimately, we won't have a government who governs. Maybe we will change this word into "Consensus". Just like Milton Friedman with the Nobel prize in Economics said, "Remember, governments don't have responsibility, buildings don't have responsibility. You and I have responsibility. People have responsibility!".
I would jokingly say that it is the dream of a lot of Anarchists in the purist sense of the etymological term. Anarchy would not mean no rules, but it would mean no rulers.
BCS: What are the possible disadvantages of integrating blockchain in government systems?
TAR: If badly implemented, we can end up with more control rather than more freedom.
BCS: What will you talk about at the Blockchain & Bitcoin Conference Switzerland?
TAR: I want to focus on the two pillars of society: Money and Power. I want to showcase how everyone can contribute to a real peaceful revolution. I encourage everyone to come and not only observe but truly participate in this upcoming change. It will happen, the blockchain world will be on the right side of history, believe it or not. People should take part rather than be left behind, and that's why such conferences are of the main importance to spread the word.
Thierry Arys Ruiz will become a speaker at the Blockchain & Bitcoin Conference Switzerland and will share knowledge about the decentralization of money and governments.
---
Learn more about the decentralized politics from the expert at the conference!
Subscribe and receive full program of the conference