DLT and Data Protection Consultant Jörn Erbguth Will Discuss GDPR Compliance at Blockchain & Bitcoin Conference Switzerland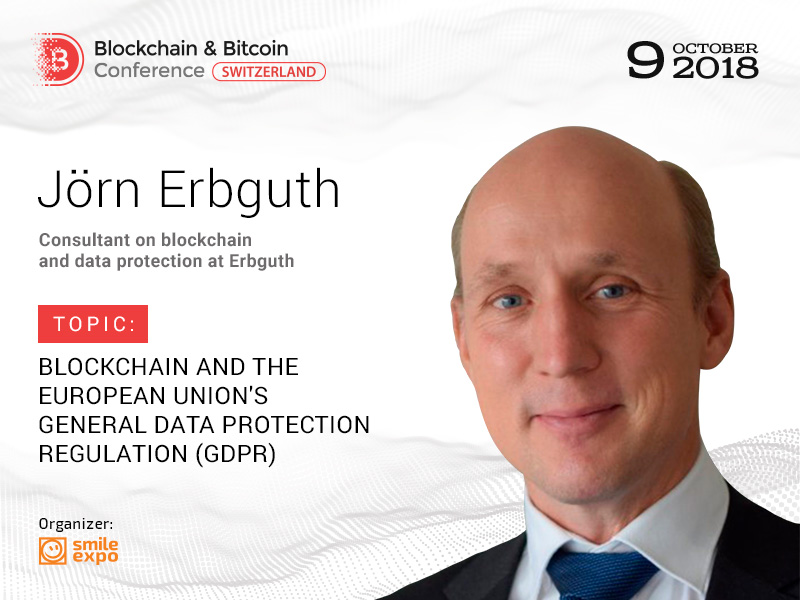 When applied to DLT, recently introduced GDPR creates many challenges and legal uncertainty. Among the most important conflicts is the data immutability. What other difficulties have arisen and how can DLT deal with them?
The issue will be discussed on October 9, at Blockchain & Bitcoin Conference Switzerland by the DLT and data protection consultant Jörn Erbguth.
Key points:
insight into the application of GDPR to public and permissioned blockchains;
challenges of GDPR compliance;
possible approaches towards GDPR compliance and remaining risks.
Jörn Erbguth provides consultations on DLT and information control. He is also an expert in IT and provides advisory on legal tech and smart contracts.
The speaker is working with evaluation of the privacy impact of the DLT-based applications and analyzing legal implications. He is offering workshops on the use of DLT, explaining when it is warranted, how to account for protection of data from the start and what type of DLT to use for a specific project.
The specialist can also evaluate a DLT-based business proposition, helping with the technical approach and privacy concerns.
Mr. Erbguth is a lecturer on the impact of information and communication technologies on global governance and international affairs.
Moreover, he is a UDIS-certified data protection officer since 2017. The speaker has the experience of working on the position of CTO at Swisslex and as a manager of IT and Software Department at Juris GmbH.
Communicate with the speaker and learn more about GDPR compliance at the conference!