Blockchain in science: CERN specialist Manuel Martin Marquez to share his opinion at Blockchain & Bitcoin Conference Switzerland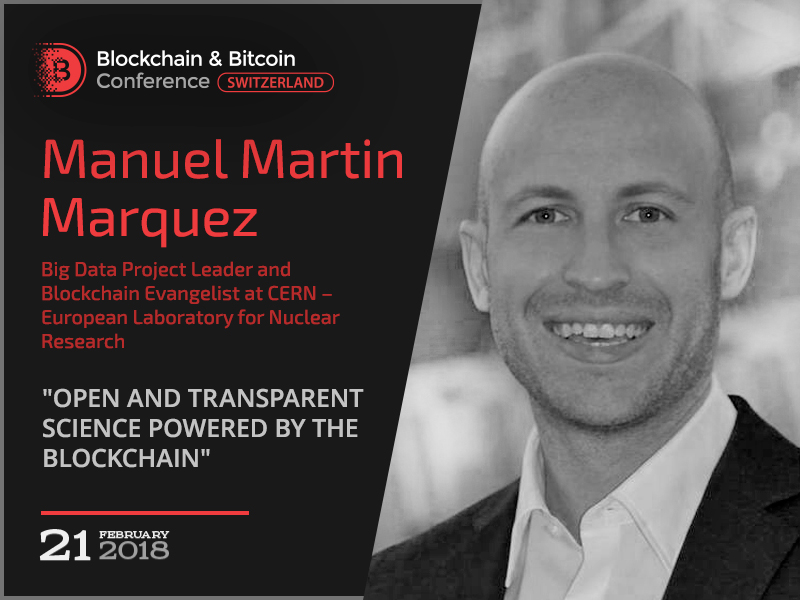 A special guest of the conference is Manuel Martin Marquez, a project leader of the world renowned organization called CERN (European Laboratory for Nuclear Research) and a blockchain evangelist.
At Blockchain & Bitcoin Conference Switzerland, he will tell the audience how blockchain can make scientific knowledge more available for both scholars and wide audience representatives.
Manuel Martin Marquez' activities at CERN are mainly focusing on the development of new techniques and approaches to Big Data Analytics and the implementation of the CERN's Data Analytics as a Service infrastructure – DaaaS. The speaker is also a member of several working groups and a participant of intergovernmental projects.
As a part of the team of enthusiasts consisting of CERN and NASA engineers, Mr. Marquez is engaged in a blockchain project aimed at disrupting the scientific publication sector. Primary targets of project participants are to change the existing market controlled by several major players.
The expert believes that the scientific publication sector is a huge industry with the market-value appraisal of $25 billion per year and margins exceeding the performance of such companies as Google, Amazon and Apple. Besides, the scientific community receives only a slight share of profit. Blockchain will allow to eliminate intermediaries, increasing authors' fees and literature availability for readers, as well as prolonging life of scientific publications and enhancing their efficiency.
According to Mr. Marquez, it will affect the evolution of science globally, as it is hindered by market obstacles to knowledge distribution.
The speaker will also share his opinion regarding the blockchain application in science: recently, he was given the responsibility to evangelize about blockchain technologies and promote the potential usage within the lab.
Register to Blockchain & Bitcoin Conference Switzerland!
Subscribe and receive full program of the conference