Blockchain in Israel and Switzerland – Founder at TopOfBlockchain Yael Tamar Will Make a Comparison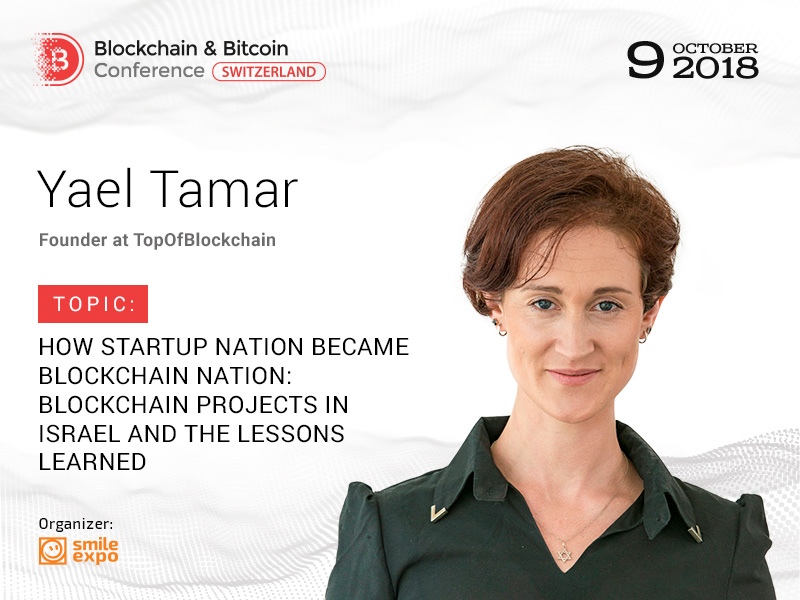 Recently, it was reported that Switzerland and Israel have decided to share their experience on how to regulate the blockchain industry. Both countries are working on the development of the technology and improvement of its elements.
At the Blockchain & Bitcoin Conference Switzerland, Founder at TopOfBlockchain Yael Tamar will explain how Israel has changed from startup nation to the blockchain nation and will compare Israeli and Swiss ecosystems.
Key points:
blockchain projects in Israel;
cases of Israeli startups: lessons learned;
similarities and differences between Israeli and Swiss DLT ecosystems.
Yael Tamar – DLT enthusiast and crypto advisor. She has founded TopOfBlockchain (TOB) in Tel Aviv – ICO and DLT consultancy, which helps crypto brands and communities to develop.
The company assists organizations in forming their marketing philosophy, formulating goals and implementing the vision. At TOB, the specialist helps clients to reach their target audiences, create right messages and development plans. Among the services of TOB – generation of content, campaign videos, workplans, conference materials and similar products.
Apart from that, the expert has a position of the Marketing Consultant at Hexa Labs – the company which designs and builds decentralized solutions.
Moreover, the speaker is also Marketing Executive at iOlite – the platform allowing non-programmers write smart contracts. In addition, Tamar acts as the Chief Communication Officer at VeganNation, where she unites vegans from all over the world in a decentralized way.
Learn more about the blockchain in Israel from crypto expert at first hand!
Subscribe and receive full program of the conference