Big Blockchain Players: Banks Invest in Cryptocurrencies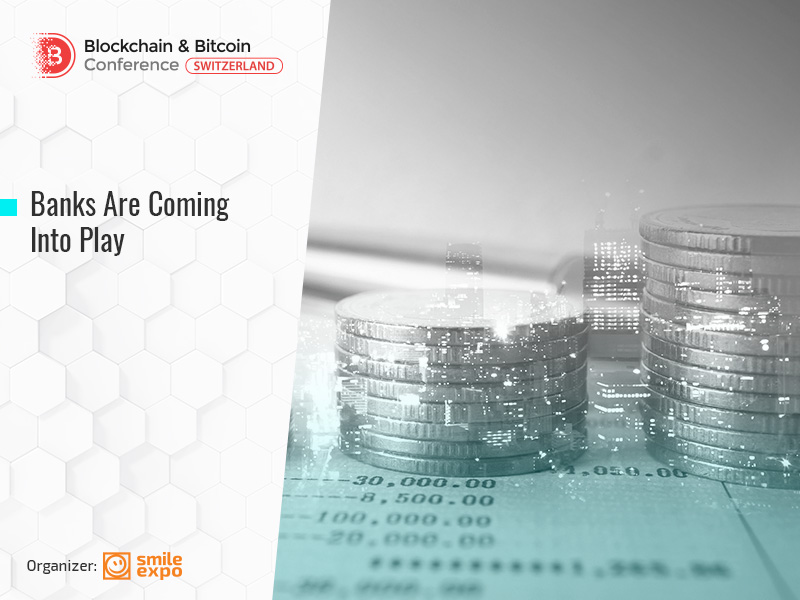 With the well-thought investments, cryptocurrencies can bring a lot of profits with time. Entrepreneurs and all crypto enthusiasts know that and keep investing. However, today, DLT and digital coins are attractive not only to individual investors but also to big corporations and banks. How does banking sector treat digital coins and which banks are already investing in cryptocurrencies?
Banking sector and cryptocurrencies
The reasons why banks started having interest in crypto coins vary. First, integrating DLT into the banking system, leads to optimization of the supply chain records.
The second important reason to utilize DLT in banking is security. For any large financial institution, it is important to protect its system from hacks and fraud, and DLT provides a high level of control and protection of all the information.
Then, efficient payments and transactions have the highest priority for banks as well. Implementing DLT in its processes, banking sector has a possibility of tracking payments, reducing costs and time of completing transactions.
Moreover, DLT can help any bank to improve all the other existing processes and make the whole banking system more reliable and stable.
How are banks investing in crypto?
When banks have just started investing into DLT and digital coins, the first currency to choose was of course BTC – that is especially true about the Bank of America – as it was the easiest way to access DLT.
Today, many large banks join forces with different DLT-based stratups with the aim of creating proof of concepts. The use of technology for this purpose would be very advantageous for banks, as it could cut the infrastructure costs by around $20 billion each year by 2022.
Which banks are investing in cryptocurrencies?
It is predicted and highly anticipated that G7 Central Banks are going to start buying big amounts of digital coins this year.
It is expected that in 2018, G7 Central Banks will see BTC's and other altcoins' ability to become the largest currency by its market cap. This is supposed to make the largest banks owning certain amount of crypto.
On May 3, 2018, it was announced that Goldman Sachs Bank will launch its highly anticipated BTC trading operation.
Despite the fact that it only provides a very limited number of derivatives, the aim is to make the bank the first largest Wall Street bank to have a BTC trading desk.
The new CEO of Goldman Sachs David Solomon has a very positive attitude towards digital coins and says that the bank is going to add more BTC, other altcoins and additional crypto services.
DLT for credit-default swaps
Major Wall Street banks utilize the technology a lot. For instance, J.P. Morgan Chase and Citigroup have conducted a trial of DLT to track the credit-default swaps in April 2016.
Also, the U.S. fintech company R3 had created a consortium with several banks in order to learn and analyse DLT use cases regarding securities settlement and payments. For thi purpose, R3 has partnered with such banks as Barclays, BBVA, Commonwealth Bank of Australia, Credit Suisse, JP Morgan, State Street, Royal Bank of Scotland and UBS.
After some time, 12 more banks have joined the group – among them there were Banco Santander, Danske Bank, Sumitomo Mitsui Banking Corporation and Westpac. As for the result, for instance, RBS is now sending mortgage receipts to the Financial Conduct Authority via the R3 Corda blockchain.
More information about DLT in banking industry and many other spheres will be discussed by top experts at the Blockchain & Bitcoin Conference Switzerland. Details of the event and registration – on the official website.